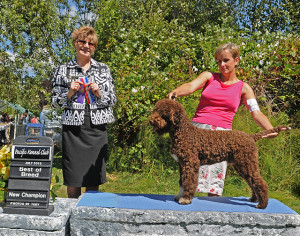 Il Granaio Dei Malatesta Vid II becomes a Canadian Champion at just 11 months of age!
We are so proud of this young son of Bacci and half brother to the World Winner, Mario.
Vid was just plain born to be a show dog and proves it every time he goes in the ring, charming the judges with his lovely temperament, great movement and structure.
Now Vid will just stay home for a while and spend his days playing with his friends.  He will re-enter the show ring later this fall, either here or in Europe with his co-owner/breeder, Monica Benelli.