Lagotto Kennels is a home-based operation located in Qualicum Beach on Vancouver Island, British Columbia. Our dogs do not live in kennels. Instead they have many acres of fenced land on which to roam and play. Our Lagottos thrive in this peaceful area with two homes, large fields, ponds and heated out-buildings.
Lagotto Kennels is managed by three dedicated dog lovers: Bridget, her partner Ernie, and Sylvia. Our love affair with the Lagotto Romagnolo, Truffle Dog, breed started in 2008 when we brought home Cara Mia — she so much stole our hearts that we wanted more of this beautiful breed!
Bridget, an animal lover from her earliest days, spent most of her life working with horses. Her strong work ethic and natural ability led her to become a member of the Canadian Equestrian Team.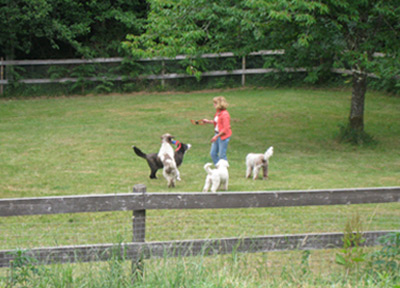 Having a goal-oriented personality she has produced great horses and riders, and has initiated and managed several equestrian clubs. Bridget has taught university-level courses while continuing to compete and develop top quality horse shows, as well as show facilities and stables. She has always surrounded herself with, and cared for, animals. Having years of experience with many varieties of animals, she now uses her wealth of knowledge in genetics, breeding, conformation, movement, and temperament, to produce top-quality Lagotto Romagnolo Dogs.
Ernie, enables us to raise our dogs in an incredible setting. His ability to design and build whatever we needed to change our horse ranch to a home for our dogs has been invaluable. Ernie designs and builds everything: keeping foremost in mind the safety, health, and well being of the dogs and pups.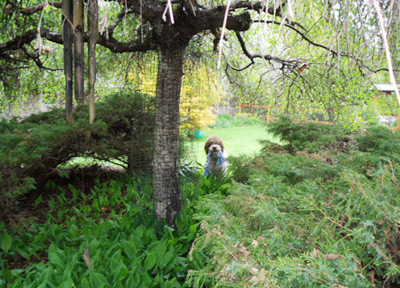 Working mainly here on the farm, he is also the primary care giver on a day-to-day basis. Ernie's days are full with building, feeding, and having play time with the dogs in our back field. Owing to his gentle manner he has an incredible way with all animals. Moreover, as busy as he is, he always takes time to give each and every pet, from our dogs, cats, and horses — even the fish — the individual attention they require.
Sylvia, a retired Medical Technologist (Micro Biologist) and Bridget's mother, also lives at the farm and is involved in every way with our dogs. She is the researcher and the organizer of the group, not to mention the "Puppy Class" enthusiast. Having been involved with animals all her life, she has a keen understanding of health and behavior, and a great love for the Lagotto.